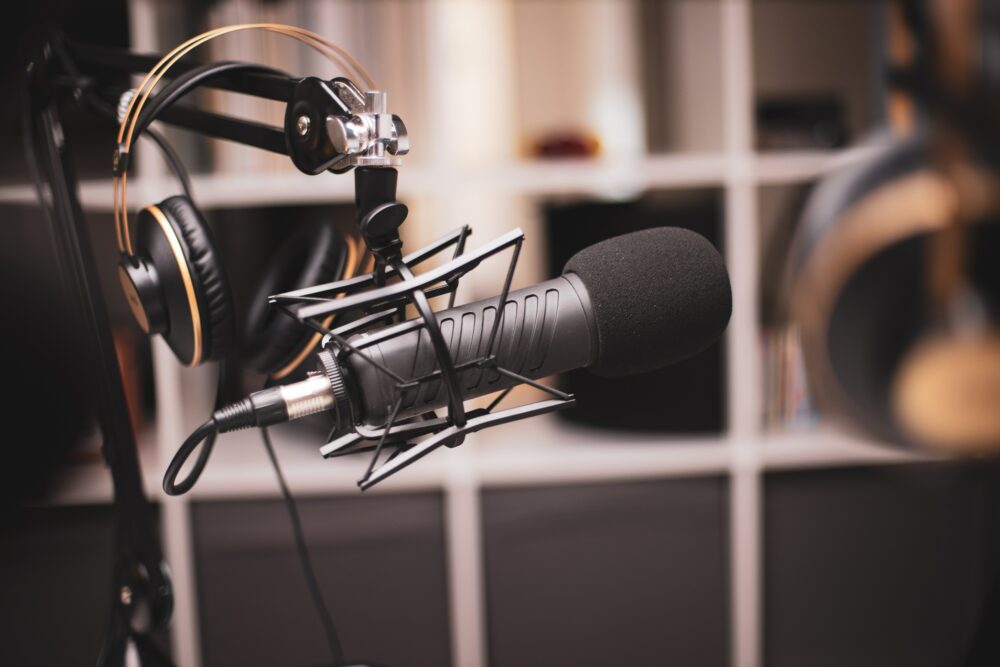 20.10.2023
Sound Advice: A Guide to Perfect Sounding Content
4 min read by Bobby Shoebotham
The audio quality of your video content is something that can be easily overlooked, yet one of the most offensive to a viewer's senses if you get it wrong. As an agency, we unsurprisingly receive a large amount of user-generated content, and one of the most common problems we come across, even more so than bad lighting or bad framing, is unintelligible audio.
Why does it matter? Like most bad things in life, we can blame this on our ancestors. Thanks to our prehistoric origins, certain frequencies can literally make our brains think we're in danger or bring up a sense of unexplainable unease. Couple this with our modern ears being used to the super-smooth sounds of ultra-high-budget Netflix documentary interviews, and you're left with sound being kind of a big deal.
So, how can you get it right without it costing the earth?
Tip 1. A Time and A Place: Perhaps the most obvious and easily solved problem we see while filming is people doing so in a loud place. Air conditioner next to the phone? A building site about five metres away? Even the sound of a flight path overhead?! (Shoutout to our Richmond neighbours…) You name it; we've heard it. Thankfully, this is the easiest to fix and will probably have the highest impact on how your content sounds. If you can hear it, your microphone can hear it. So before hitting record on your latest masterpiece, take a second and listen carefully. If there's unwanted noise, pick a new location.
Tip 2. Use What You Have: Namely, your AirPods or any other generic headphones that you can use for voice calls. These little gadgets have been purposefully designed to try and cut out as much background noise as possible while also perfectly picking up your voice. So they're an obvious asset for filming. They will also cut out a great deal of undesirable room reverb because they're so near your mouth, and the sound doesn't have to bounce around the room to get to your microphone. On the flip side of this, if you don't have AirPods/headphones, just get your phone as close to your face as you can without ruining what the video image looks like. Minimising the distance between your mic and your mouth means less noise.
Tip 3. Clip It Reel Good: If you really want to go all out and get pristine audio on your content, a good semi-pro option is what's called a lavalier mic, or lapel mic to you and me. These are super affordable (good options for under £20), are often wireless or can plug straight into your phone and cut out a huge amount of background noise, giving you the closest you'll probably be able to get to pro sound without breaking the bank. You could film your content in a huge cathedral if you so desired, and I'm willing to bet there would still be minimal reverb and noise.

Tip 4. The Secret Weapon – If All Else Fails: If you didn't have the time or opportunity to do any of the above, never fear! The powerhouses of all things media-related over at Adobe have got you covered. They recently unleashed their free podcast enhance site onto the world, where you simply drop your shady audio into a box, and within minutes you have a pristine, 'podcast-ready' audio file that you then just need to drag into your reel and align with the original audio. Disclaimer; even this miracle worker has its limits and can't process truly terrible sound bites, so we'd highly recommend following steps 1-3 first and then using this at the end if your clips still don't sound up to scratch or could use the extra 5% to perfection. The finished result can also sometimes sound a little robotic, so feel free to play with the 'Strength' slider until you get a natural-sounding audio clip.
And there we have it, with just a few easy steps (and one incredibly powerful AI audio processor), you never have to let sound get in the way of a professional and engaging reel ever again, leaving you to focus on the important things like producing creative and sustainable content. Hear, hear!