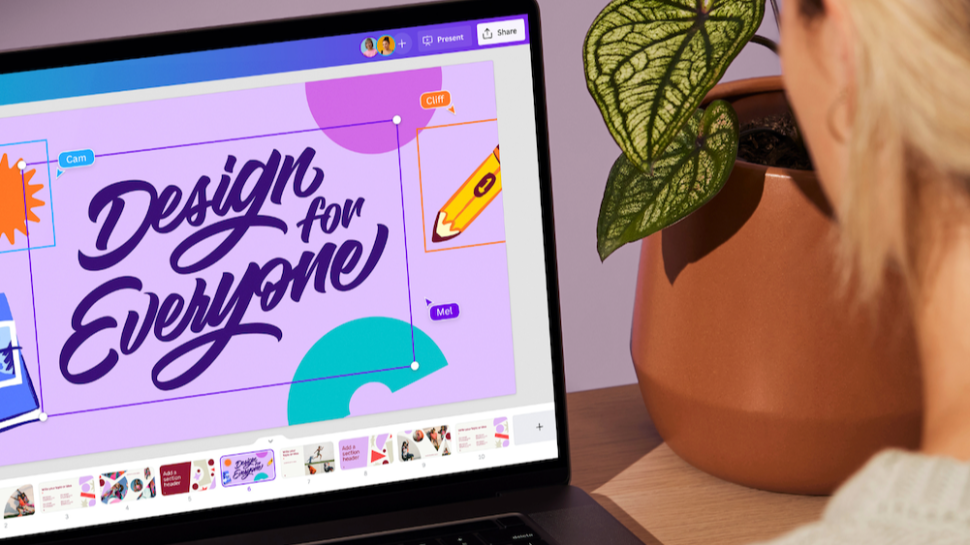 23.03.2023
Canva's 2023 Update: Unveiling the Magic for Content Creators
3 min read by Abi Feltham
Ah, Canva! A digital haven where every content creator's dreams take flight. In2023, Canva has stepped up its game with a treasure trove of new features that will revolutionize the way you craft, design, and share your creative visions. From game-changing tools to streamlined editing options, we've curated a guide to help you harness the enchantment and elevate your content creation prowess.
Craft Your Brand Identity with Canva's Brand Hub
Introducing the Brand Hub, your sanctuary for crafting and propagating your visual identity like never before. This all-new feature enables you to effortlessly construct automatic templates that incorporate your brand's signature colors, logo, GIFs, and photos. A few simple inputs – your brand's color palette, typography, and pertinent details – and let Canva weave its magic, transforming your ideas into stunning visual masterpieces.
Unleash Your Creativity at Scale with Bulk Create
Bid farewell to the endless search for misplaced logos and outdated images. Enter Bulk Create, your mystical solution to seamlessly replace logos and brand imagery across your entire spectrum of designs. With a mere few clicks, you can effortlessly infuse consistency and uniformity across existing and new creations. What's more, you can now concoct multiple versions of the same design, each infused with subtle differences – names, dates, numbers, or images – all applied with surgical precision.
Experience the Wizardry of Instant Templates with Magic Design
Witness AI in its full glory with Magic Design, your new co-designer. Upload an image, choose a style, and behold a cascade of unique templates custom-designed just for you. If your vision remains tantalizingly elusive on-screen, fret not. Let Magic Design work its charm and conjure up the perfect visual representation.
Global Reach through Translation Magic
Canva takes a leap forward with Translate, a groundbreaking feature that keeps you tethered to the platform. Bid adieu to external translation services as Canva empowers you to seamlessly translate text within your designs into multiple languages. Connect with audiences in every corner of the globe and bridge linguistic divides effortlessly.
Magic Edit: Where Imagination Meets Reality
When your image yearns for that elusive "je ne sais quoi," Magic Edit comes to the rescue. Add or replace elements within an image with unparalleled ease. Simply specify your desire, and like a skilled conjurer, Magic Edit makes your vision materialize before your eyes.
Sync Soundtracks Seamlessly with Beat Sync
Say goodbye to the painstaking task of manually synchronizing videos to trending audios in Instagram Reels. With Beat Sync, your video's soundtrack aligns effortlessly with your footage, ensuring flawless timing and captivating content. A single click and your creation resonates with perfect harmony.
Bring Your Designs to Life with Canva's Draw Tool
Unleash your inner artist with Canva's Draw tool. Whether it's freehand sketches, diagrams, or annotations, you can now infuse your designs with a personal touch. Embrace Shape Assist and watch as your hand-drawn shapes transform into polished masterpieces, perfect for flow charts and mind maps.
Create Captivating Animations with Custom Animation Paths
The excitement in Canva Video reaches new heights with Create an Animation. Transform your narrative into a vibrant tapestry of motion with custom animation paths. Drag elements across the screen to dictate their trajectory, be it zig-zagging, rotating, speeding up, or slowing down. The result? Instant animation that adds a dynamic edge to your storytelling.
In the ever-evolving world of content creation, Canva's 2023 updates introduce a myriad of possibilities. Embrace the magic, unlock your creativity, and embark on a journey that redefines the art of visual storytelling.